Henrik Hololei as guest in Myway Airlines
18, September, 2019
Myway Airlines hosted European Commission's Transport and Mobility Director General Henrik Hololei. Igor Aptsiauri, Commercial Director of Myway Airlines informed the Delegation of the European Commission about future plans of the company.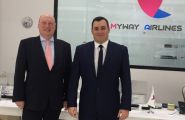 SIGN UP FOR THE BEST DEALS !
Be the first to receive exclusive offers and the latest news on our products and services directly in your inbox.
Has Been Successfully subscribed to our deals update, please check your inbox and confirm subscription