Meeting at Embassy of Italy in Georgia
26, September, 2019
Management of Myway Airlines continues the series of meetings with the Ambassadors of those countries, where the company plans to have its regular flights. Vice-president and the commercial director of Myway Airlines were hosted by an Ambassador of Italy in Georgia, H.E.R. Excellency Antonio Enrico Bartoli. Italian diplomat showed his great interest in airline's future plans and hopes, that a new direct route between Tbilisi and Rome, will be a stimulation for further development of Italian Georgian bilateral relations.
Myway Airlines will perform direct flights from Tbilisi to Rome from October 28th, with the frequency of two times per week on Thursday and Sundays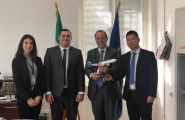 SIGN UP FOR THE BEST DEALS !
Be the first to receive exclusive offers and the latest news on our products and services directly in your inbox.
Has Been Successfully subscribed to our deals update, please check your inbox and confirm subscription