Myway Airlines is commencing flights to Europe
26, Jun, 2018
Specific destinations will soon be announced by the airline. Within the framework of the Authorization Process of the non-EU member States, the European Aviation Safety Agency has issued a permit to the new Georgian airline - Myway Airlines. On the basis of this approval, the carrier has been authorized to operate with one centralized permit to 28 EASA member countries and to 4 different countries of European Association for Free Trade. This permit is a proof that an aircraft operator is in total compliance with an ICAO safety standards!!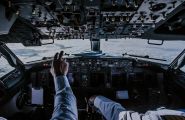 SIGN UP FOR THE BEST DEALS !
Be the first to receive exclusive offers and the latest news on our products and services directly in your inbox.
Has Been Successfully subscribed to our deals update, please check your inbox and confirm subscription